The most unhappy customer is the most significant source of learning for online businesses whose reviews should be well-understood, analyzed, and acted upon appropriately. So, listening to feedback for online services from the users' perspective is a good thing, but when users are not answered convincingly, they will walk away. The most embarrassing part of this conversation is- the other prospective users and probable customers are reading every single comment online.
The statement confirms a figure that states that 88% of users seek and read reviews before discovering a local business and 62% of them check the authenticity of online user reviews. The user reviews are published on the business website, social media platforms, and other review sites as a part of the branding strategy, but when anything goes wrong- it damages the business's reputation.
It's quite a task for businesses to manage reviews across different channels. That's where online reputation management from professionals helps businesses focus on core activities that take conversion and ROI to the next level.
In this blog, we will walk you through online reputation management (ORM) definition, the benefits of ORM, and how to manage online reputation in association with ORM experts.
What is Online Reputation Management?
Online Reputation Management (ORM) is the practice of shaping, monitoring, and influencing a business's online reputation. It involves strategies and techniques to manage and control what appears in search engine results and social media when people search for a particular product/service.
The primary goals of online reputation management are to ceaselessly maintain a positive online presence, mitigate harmful content, and influence how users perceive the offerings online. The continuous service from online reputation management companies ensures that everything is addressed proactively so that users' perception of the business offerings remains on the top.
Leading brands such as Uber, Walmart, Domino's Pizza, Airbnb, and McDonald's have used ORM services to rebrand and improve their online image. Take a look at the benefits that businesses reap from ORM efforts.
Why Online Reputation Management is Important for Business?
The ongoing ORM services bring many advantages, from addressing reputation challenges to rebuilding trust. Here are the top benefits in detail that can help to build a reputation among customers as well as competitors: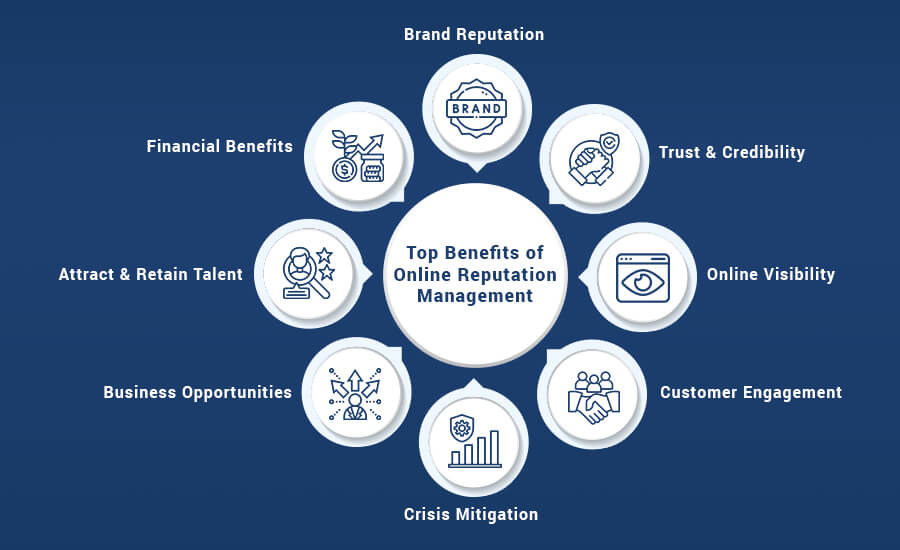 Improved Brand Reputation
Brand reputation is not only about publishing positive reviews and censoring negative reviews on online platforms such as social channels, review websites, mobile apps, and websites. It's so because businesses can control reviews locally, but it's implausible to control on other portals like- Quora, Reddit, and others. It requires online reputation management so that users with lousy experiences are convinced positively, which enhances brand reputation.
Additionally, ORM helps shape a positive brand reputation by highlighting the business offerings' strengths, accomplishments, and positive aspects. It further leads to increased brand trust and loyalty.
Increased Trust and Credibility
When potential buyers or high-volume shoppers look for online business offerings such as products and services, checking out online reviews from existing customers is the new normal. When a business has positive online content in the form of good reviews, it helps build customer trust and credibility. It's more likely to engage customers with and support the business offerings.
Online Reputation Management services provided by top branding agencies take care of online reviews that further help businesses strengthen users' trust and credibility in the brand offerings.
Better Online Visibility
Business' online visibility goes southwards when users show less interest in the business offerings. Digital marketing tactics such as SEO will help in increasing SERP, but it's only some things that matter to Google crawlers while indexing the websites. It's found that online reviews are an important factor considered by Google in website ranking as it's user-generated content.
It highlights the importance of user reviews that are improved using online reputation management strategies. ORM optimizes online user-generated content, that's user reviews to improve search engine rankings. When positive content ranks well, the business offerings become more visible to potential customers and partners. Online reputation management companies link user reviews with Google business profiles to improve CTR and users' trust, automatically pushing the website to the top of search engine pages.
Enhanced Customer Engagement
Engaging with customers on social media and review platforms such as TopDevelopers.co demonstrates responsiveness and a commitment to customer satisfaction. It requires businesses to create a user-focused content strategy, which maximizes user engagement and reduces users' churning rate. When a business fails to engage the users, the content is considered one of the top factors. Content marketing agencies help optimize content for social media channels, review platforms, and websites to maintain an online reputation, which leads to increased customer engagement.
What's more? ORM helps create a social proof that users leverage as a base for checking business offerings' trustworthiness. When ORM succeeds in earning three to five stars, displaying user reviews and linking review platforms would help turn visitors into potential customers.
Crisis Mitigation
Businesses cannot achieve 100% customer satisfaction when no customers have complained about anything or left negative reviews. It's part and parcel of ongoing business where social media controversy, unexpected events arise, or poor reviews are common. Such a crisis needs to be handled and managed thoughtfully.
Online Reputation Management helps address and mitigate the impact of adverse events or crises with prompt and apt resolutions. It helps prevent reputation damage and enables quick recovery from unforeseen situations to protect the brand's reputation.
Increased Business Opportunities
Let's accept it: Customers are more likely to choose a reputable brand. Online reputation management improves business visibility, thereby driving more traffic to the business and converting the users at scale. The growing traffic volume and high user influx make industry leaders enter partnerships and collaborations.
It provides more opportunities for businesses to sell their offerings through multiple channels or take them to the next level.
Attract and Retain Talent
Presently, businesses need help attracting talent and retaining existing employees. The online reviews left by the previous employees give insights into working style, working environment, communication and collaboration, and more, which new employees consider before sending their resumes. Existing employees also stay with businesses they are proud to be associated with.
It means a positive reputation can attract top talent and retain existing ones, as job seekers and currently working employees often research prospective employers. So, ORM makes your business the best place to work for professionals.
Financial Benefits
A solid online reputation directly impacts the bottom line as online reviews influence users' purchase decisions. It brings the importance of online reputation management into the limelight. Businesses with lots of positive online reviews attract and convert users into clients and customers, leading to increased sales, revenue, and profit.
Additionally, the customers who trust the business and remain loyal to business offerings turn into brand advocates and spread the good word about a brand like wildfire. The excellent result of ORM is businesses don't need to spend heavily on advertisements, which is another financial benefit.
How can businesses get their online reputation?
Online reputation management for businesses is not only about review management; instead, it's a lot more than this. It requires businesses to hire an online reputation management company or follow the step-by-step guide for the best ORM. They are:
Online reputation audit
ORM starts with researching what users are talking about your business services/products. Different conversation from various users on distinct platforms such as user reviews, google reviews, review sites, and social media helps understand users' perception of the business. Researching the same for competition using various ORM tools enables businesses to know where the business stands.
Create ORM strategies
The audit helps the business know their brand's current positioning in the market and the areas that need to improve. The user-facing team can better deal with challenges, but the team needs to monitor the changes as crises are integral to ORM continuously. The team should plan for a response during emergencies so that customers are always prioritized, even in a crisis.
Set standards for user responses
Responding to user queries or issues consistently using the same positive tone is necessary to show user-friendly behavior to the users irrespective of the situation. Businesses should set a voice tone for everyone directly connecting with users so that users never become defensive and feel cheated. Along with creating guides for brand voice, content is designed to be sent to users across different channels for a positive experience.
Share the plan with all business people
The ORM plan created after the audit, ORM strategy creation, and setting brand voice as a part of the online reputation management strategy must be shared with all the ORM team members. It makes the entire team and the online reputation manager accountable for a positive brand reputation. The plan is communicated to the entire team in detail so that they understand where they are responsible for online reputation management.
Take actions as expected
The positive review determines where the business products/services are good. Negative reviews highlight the room for improvements that require team attention. So, businesses must act according to comments, reviews, and user feedback to keep doing well and continuously improve wherever users expect changes.
Rinse, iterate, and repeat
The steps above should be repeated constantly to keep the digital business succeeding and growing boundlessly. It requires businesses to track results with different KPIs, and when anything doesn't seem to be working, the ORM strategies and plan need to be tweaked. The process will continue until businesses achieve their desired goals.
Ready to cherish success with online reputation management?
A solid online reputation is a backbone for businesses as users look for negative reviews to discover the bitter truth about offerings that are difficult to find. Positive reviews tell a good story, but when negative reviews are optimized, it brings the business offerings to the forefront because users value the brands that listen to them.
It makes online reputation management shine and helps businesses sail through challenging reputational waters. The benefits speak louder about the benefits of considering ORM. So, manage your online reputation following a couple of steps and still, you are unsure, consider online reputation management service providers to get the best results. Good luck!
Source link