According to Mordor Intelligence, the mobile cloud market should touch the mark of approximately USD 120 billion by 2026 as it is evolving at an unprecedented pace and popularity across the world. In other words, Mobile Cloud Computing (MCC) has witnessed a sharp upsurge of both mobile technology and cloud computing in almost all industry verticals.
Mobile app development companies, over the years, have advanced in their coding, implementation, and maintenance; subsequently, the demand for cloud computing has grown manifold due to the high demand for data storage. According to Cisco's Global Cloud Index, more than 90% of the computing process happens over the cloud.
What is mobile cloud computing?
Mobile Cloud Computing (MCC) uses cloud computing to render the functionalities of mobile applications on handheld devices. Such mobile applications can be arrayed remotely with the help of scalability and the pace of various development tools. Even further, mobile cloud apps can be altered, developed, and revised through cloud services in quite a short time. Utilizing the best features, cloud computing service providers can help enterprises deployed on various devices and operating systems to render seamless experiences to their users and customers.
The best part of MCC is that customized software can be operated on various mobile devices with various screen sizes and operating systems. The computing tasks and cloud storage won't be an issue and as a result, users can have a seamless experience with mobile applications and software tools for their personal or professional uses.
Factors that foster mobile cloud computing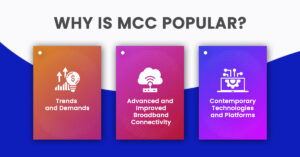 MCC is an architectural approach that blends mobile processing power (such as that of smartphones and tablets) with cloud-enabled resources and services. Mobile devices of MCC can utilize several resources from several places to augment their computational capabilities remotely. Here are a few factors that have boosted the demand and popularity of MCC, especially in the past several years.
Trends and demands
Today, the habit and trends of consumers have changed dramatically from the yesteryears. With easy reach to the company's websites and applications, customers want everything on the go. Mobile cloud computing is typically for this purpose and therefore, taking into consideration the latest app development trends mobile cloud computing has found its way deep into present-day business requirements.
Advanced and improved broadband connectivity
The fourth and fifth generation (4G & 5G) connectivity through cables and wi-fi has made mobile computing the best option to communicate and share information throughout the world. In other words, mobile cloud computing has made it possible to use the technology to connect with any person sitting in any corner of the world at any time.
Contemporary technologies and platforms
The latest enabling technologies such as HTML5, CSS3, a hypervisor for gadgets, cloudlets, and Web4.0 are some of the contemporary technologies that have driven mobile cloud computing way far into the limelight.
Mobile cloud computing challenges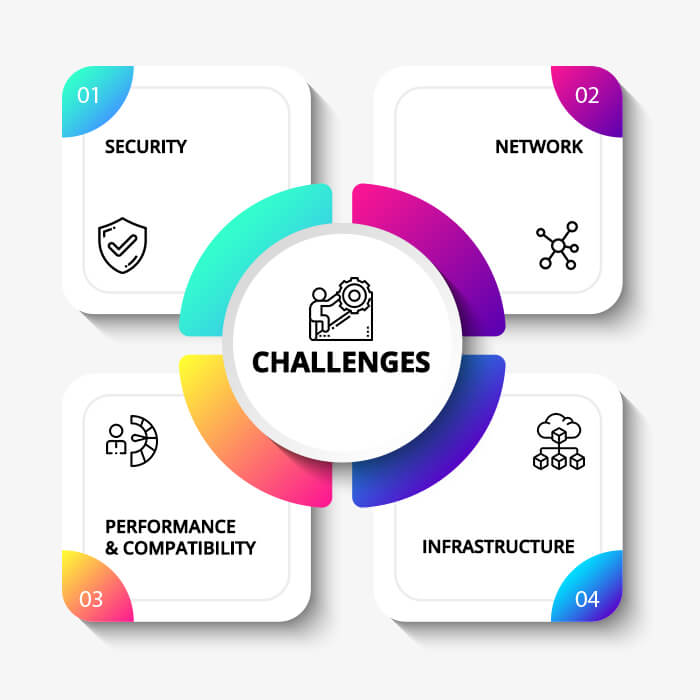 As technologies evolve constantly, tech experts do face the arduous task to face newer challenges. Mobile cloud computing, too, tests the developers and programmers with some common and some unforeseen challenges listed below.
Security
Mobile cloud computing requires robust and compatible approach of software and hardware devices. Since mobile cloud computing is chiefly based on the security of the environment it is executed, it requires more stringent measurements compared to traditional apps. That said, the investors will have to shed some bucks for additional or extra for assuring the security measures.
Network
Another significant challenge faced in mobile cloud computing is network reliability and availability. High-speed internet has been a prerequisite for cloud computing for mobile apps. Limited network availability or slow-speed internet would hamper the cloud computing functionalities in mobile technology.
Infrastructure
Mobile cloud computing (MCC) uses infrastructure as a service platform of the cloud to store and process crucial information and data. The cloud-based mobile apps transfer computational ability and data storage into the cloud and, therefore, the infrastructure for MCC asks for unrestricted and highly efficient infrastructure.
Performance and compatibility
Mobile cloud computing is meant to improve the performance of the application as it offloads heavy tasks to the cloud infrastructure. It makes partitions of the app into small packets of tasks i.e., splitting the code into small sets and sending them to remote servers.
Now, this complex process involves ample technical events within hardware and software. Any impediment in this process by devices or coding and compatibility issues would invite unwanted glitches, and this has been one of the significant challenges.
Security in mobile cloud computing
The adaption of the cloud has been unprecedented. Especially, in the past few years, most giant companies have invested zillions of dollars into improving mobile cloud computing to yield the best of contemporary technology. Nevertheless, the latest security challenges of mobile cloud computing in 2023 will require a special multidimensional approach. Here are a few challenges to list.
Malware infection
While cloud enables rapid distribution of information, it does spread the malware equally. Malicious software could infect the clouds with viruses and worms that may compromise the crucial data stored on them.
Network compromise
Many enterprises opt for cheaper options of cloud solutions and as a result of it, the shared environment and its network get compromised. Brutal forces such as trojans, SQL injections, DDoS attacks and phishing plus botnets could seriously damage the clouds.
Account compromise
Account hijacking has been on the rage for the past few years because remote cloud computing facilitates phishing. Hijackers can easily monitor and alter the data by breaching into accounts with weak credentials and poor password keys.
Apart from the above mentioned factors, according to Checkpoint.com, external sharing data, and malicious invaders account for 43% and 36% respectively. Furthermore, it also states that 68% of cloud platforms are misconfigured or wrongly set up while insecure interfaces/APIs contribute to 52%.
Applications and examples of mobile cloud computing
The high penetration of mobile cloud computing has facilitated almost every technological advancement in communications and commerce. A typical mobile cloud computing app software is one that can be accessed through handheld devices with the help of an Internet connection. There are many applications and examples of mobile cloud computing observed today around us.
Key Applications and Examples
Email
The commonest example of mobile cloud computing is the emails of almost all vendors – Gmail, Yahoo! Mail, and Microsoft Outlook. Whenever you access any email today, it is the result of mobile cloud computing.
Social media apps
Most social media applications today are based on mobile cloud computing. For instance, Instagram, Facebook, Twitter, Snapchat, etc. are based on cloud technology and provides the fastest access to data.
Commerce
Just like email and social media apps, commercial applications such as banking and shopping also use mobile cloud computing technology to serve their users with safe browsing and transactions of all kinds including financial. It becomes more essential when businesses are shifting from eCommerce to mCommerce.
Healthcare
The latest add-on to mobile cloud computing especially after an unprecedented pandemic is the healthcare applications and software tools that are accessed through handheld devices. Healthcare app development today uses mobile cloud computing for secure and safer data that is highly confidential.
Advantages Of Mobile Cloud Computing
It is quite evident that mobile cloud computing provides an extra edge to computing and, therefore, the automation of any process is rendered easier and faster. Here are a few cogent reasons why use mobile cloud computing.
Cost-effectiveness
Unlike yesteryears, mobile cloud computing today does not dig a hole in a wallet. Most enterprises prefer cloud computing for their mobile solutions because it is affordable. Many cloud computing packages come with a 'pay as you use' business model where the buyer would pay the amount only for what the mobile computing has been used.
Scalability
One of the biggest advantages of mobile cloud computing is that it offers immense scalability. Today, when market demands and consumer expectations change quite frequently, scalability in terms of flexible features and computing should come in handy. Mobile cloud computing just does it.
Integrity
Mobile cloud computing is known to enable users to collect and integrate information from more than one source. The process is comparatively quicker, safer, and easier. Cloud computing integration is seamless and therefore most applications today you find are based on the cloud especially when the application requires real-time data to process the information faster and accurately.
Damage control
Data recovery in mobile cloud computing is made easier by the latest tools and technologies. The critical data,if stored in the cloud using standard and accredited processes, helps you recover quickly without losing much of it.
User demand
The latest trend of mobile computing where users expect and demand quick access to any information with complete security at a faster pace, mobile cloud computing has addressed every such concern.
AI (Artificial Intelligence) in cloud computing and performance tests
The advent of Artificial Intelligence (AI) has augmented mobile and cloud computing with the Internet of Things (IoT) and Machine Learning (ML), and as a result, mobile software solutions have walked the extra mile to provide bespoke solutions to various industry verticals. AI has come with ample benefits to enhance cloud computing and its efficiency in boosting mobile app solutions. Here are a few advantages of AI in mobile cloud computing and its performance tests –
Reduced costs
It is not a secret anymore that cloud computing is beneficial to reduce the cost of developing an app; furthermore, for cloud performance testing, AI has a bigger benefit. There are ample examples that prove that AI in cloud computing and performance has revolutionized the testing process.
While computing markedly lowers the expenses spent on hardware and maintenance of servers locally, businesses can opt for bigger cloud service providers on a monthly or yearly subscription basis reducing the costs drastically. Even further, the AI in cloud performance has enabled testers to perform various vigorous testing without spending much time and money on research and development by deploying workforces.
Powerful analytics
Artificial Intelligence helps machines and systems to learn from users' inputs and that has resulted in self-evaluation and improvement of machines. Implementing Artificial Intelligence in the cloud can provide the best possible analytical tools. Such tools can further help us evaluate the performance of the devices and systems as a whole. The analytics can also assist entrepreneurs to build foolproof business strategies for the future.
Intelligent automation
The process of cloud performance testing is complex and hence it requires veterans from the field. Even further, it requires quality time and, therefore, consumes a lot of manhours. Artificial Intelligence in cloud performance testing makes it an automated process with minimal human intervention required. It renders strategic, highly efficient, and accurate testing with minimal observation from the testers.
Fastened security
Intelligent cloud data security is possible while testing cloud performance. Artificial Intelligence can manage and handle data security like no other. The AI can detect any data breach, anonymity, and the like to ring an alarming bell.
Improved data management and user experience
While artificial Intelligence can help automate the entire cloud performance testing, the use of AI has been noteworthy to improve user experience as a whole. AI can improve data management with more accuracy and reliability. Experts also use AI to enhance their marketing and business operation automation through customized software tools.
Big data and cloud computing performance testing
While cloud performance testing, in general, is performed by most enterprises. Now, those that deal with big data should not miss this crucial step to secure their business operations. Companies that deal with big data regularly face hassles caused by myriad reasons.
For instance, response time problem has been quite a common cause for big data enterprises as at times they face large data input or output requirements. Not only do they cause network blocks, but also affect the adjacent systems.
Secondly, load time problems are also evident in many organizations where decompression and compression cycles could cause big data problems to hamper the services. Apart from load time and response time, memory issues with enterprises dealing with big data are another concern that requires utmost attention.
Here are some metrics that one should mind while performing big data cloud performance tests –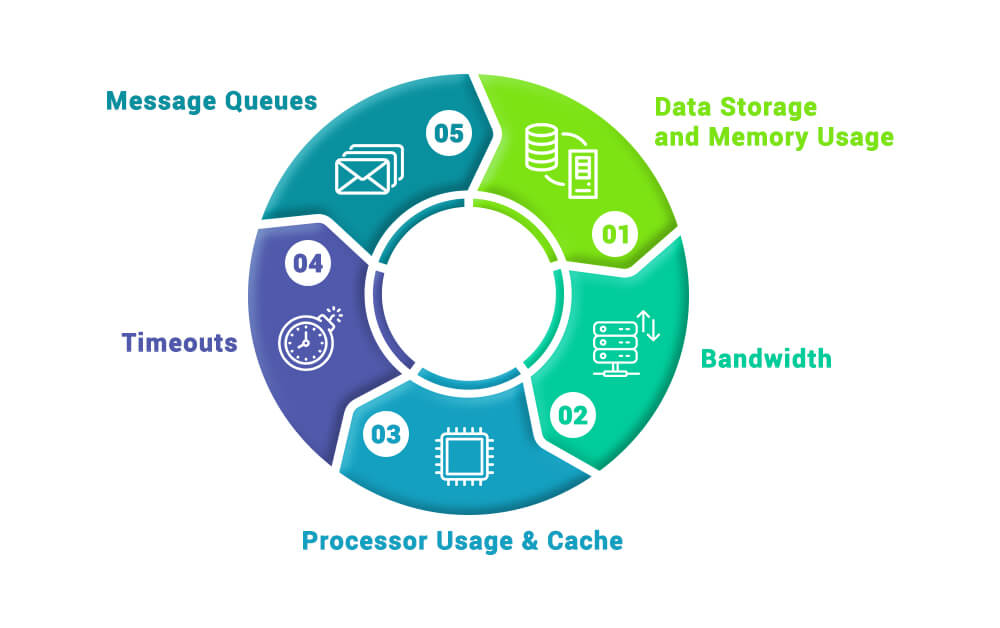 While big data and cloud computing can help you excel in your business, it is important that proper testing should be assured to keep your business automation going smoothly. The key components of big data cloud performance testing include data ingestion wherein the apps obtain and import data for usage or storage in the database; the sources could be a warehouse, incoming data from user input, and the like.
Processing and analytics could also impact the cloud performance tests where enterprises use these inputs to study patterns and correlations between various components and software entities.
Selection of cloud computing service provider
Since cloud performance testing is the backbone of any running mobile application, it makes utter sense to choose the best cloud computing service, provider. While there are many such software firms, picking the right one is a daunting task. Here we provide crucial factors that help you choose the right cloud service provider –
Key Criteria for Selection
Cloud Security
Companies with stringent security measures can get you better protection. However, the measures depend on the mechanisms they adapt for their cloud computing. For instance, Amazon's Shared Responsibility Model documentation and Azure's and Google's approach to security should be studied as a prime example. Security should be the topmost priority and, therefore, it is critical to ask questions in detail.
Cloud compliance
The second important factor in the selection of a cloud computing service provider is the compliance. You should make it sure that the cloud platform you choose should adhere to internationally accepted standards; for instance, HIPPA and HL7 for medical informatics.
Cloud architecture
The cloud should match and go easy with your present licensed software and hardware network. For instance, if you have heavily invested in Microsoft technology, it is undoubtedly Azure that would suit your business by all accounts; similarly, Amazon and Google services would give you their cloud computing services if you have those technologies in place.
It is worth noting that for data storage, the three major cloud service providers have quite similar architectures and allow you to choose different types of storage that fulfills your purpose; nevertheless, for archival storage, they have different approach and architecture. You must check with all possibilities before choosing the best mobile cloud service provider.
Cost
One of the most important factors in selecting the best mobile cloud service provider is the overall cost of the services. While some providers offer you a pay-as-you-go approach wherein you pay only for the space you use, others may come with volume discounts and reserved data storage schemes and plans. You must check with technical experts about how much cloud storage you need and plan the budget accordingly.
Service support
Mobile cloud computing requires utmost attention in terms of running servers and downtime. The customer services especially after sales make a big role in choosing the best mobile cloud computing service provider.
You may opt for the company that has positive reviews and has a big name, especially in your industry niche. For instance, if you are into an eCommerce business, Amazon server has set a hallmark in providing the best cloud computing services for your mobile commerce platform.
Closing Thoughts
Ultimately, you must hire remote developers or offshore IT firms after thoroughly checking their credentials in cloud technologies. This guide shall help you choose the best mobile cloud computing providers so that you can rely on their services and pave your way toward a successful business driven digitally.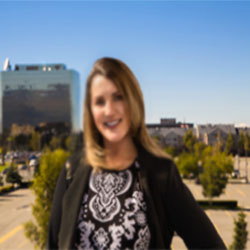 A professionally engaged blogger, an entertainer, dancer, tech critic, movie buff and a quick learner with an impressive personality! I work as a Senior Process Specialist at Topdevelopers.co as I can readily solve business problems by analyzing the overall process. I'm also good at building a better rapport with people!
Source link