Editor's note: In this article, you will learn about the core capabilities of space management software top space management products. If you need to enhance facility management with the help of space management technology, check out ScienceSoft's software development services offer.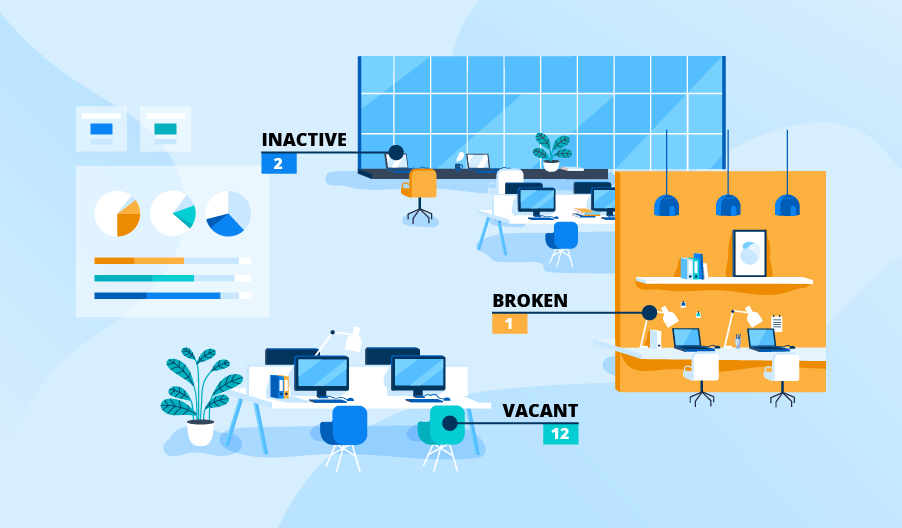 Space management covers planning, supervising and optimizing a company's physical spaces. Space management is widely used in a number of business areas, such as manufacturing, construction, property rental, and warehousing. Here, we will take a closer look at a specific use case, namely, office facilities. Space planning software for office facilities is designed to monitor and schedule space allocation and occupancy, categorize physical assets, analyze space utilization patterns, and forecast future office space needs.
Improved space utilization. Given modern flexible ways of doing business, space and occupancy information is constantly changing. Space management software provides real-time space visibility and helps pinpoint underutilized rooms.
Reduced costs. Knowing which areas are rarely utilized is helpful for prioritizing resources and cutting down on utility costs. Space management software helps identify areas that do not need full-scale heating, lighting, air conditioning, and more. It helps keep premises in order at a lower cost.
Higher employee satisfaction. Space management systems help build a workforce-centered space planning strategy and match available areas to employee needs: a quiet place to focus on work tasks, a creative space to spark ideas, or a common area for team-building and social involvement. Happy employees tend to be more productive, efficient, and devoted.
Workforce well-being protection. The COVID-19 pandemic has changed the way we work and perceive workplaces. Space management software can help comply with social distancing requirements and help allocate space to ensure employees are spread out as safely as possible.
Space management analysis. Space management systems help facility managers collect real-time space metrics like total area, percentage of space used, costs per square meter, and more as well as analyze space utilization statistics, define trends, and find optimization opportunities.
Optix is a mobile-first workplace management platform designed to run coworking spaces and shared offices.
Features
Booking for creating a list of available desks, workspaces, and more. The feature enables users to check real-time status of available resources as well as book, modify and extend reservations.
Community feed to inform about coworking space routine, notify about upcoming events, and make important announcements in real time. Users can share comments and leave feedback, which increases user satisfaction and engagement.
Issue reporting to enable users submit requests to solve issues like equipment failure, indoor environment problems, and cleaning issues and notify a coworking facility manager about such issues in real time.
Analytics based on core metrics like space occupancy, rental income, room bookings, and more arranged in a clear and easy-to-view way, which helps get insights on how to improve facility utilization.
Pricing
Essentials: $159/month
PRO: $239/month
Scale: customized price
iOFFICE is a cloud-based integrated workplace management and facility management solution that helps simplify space planning and optimize workspace utilization.
Features
Space visualization makes it possible to upload CAD floor plans with precise measurements and arrange them by space type, occupancy, more due to compatibility with CAD software.
Real-time tracking of space data to collect scattered data from various sources, including IoT sensors and provide structured information on occupancy and space utilization.
Space utilization reporting to enable facility managers to perform occupancy and space allocation analysis, outline utilization patterns, and identify areas for improvement.
Integration with other tools like wayfinding and employee experience apps, which contributes to flexibility and help improve employee experience and increase satisfaction.
Pricing 
Available upon request to a vendor.
MRI space management software is a web-based solution that helps meet employees' needs even in hybrid working environments.
Features
Real-time space and workplace tracking using CAD floor plans and measurements helps visualize real-time occupancy, track personnel locations, and make efficient use of office space and workplaces.
Asset management helps assign assets to employees, pinpoint equipment locations, and plan maintenance operations.
Workplace move management helps plan and schedule moves, produce and share relevant documents.
Self-service knowledge base where employees can access up-to-date information, find co-workers and assets across facilities.
Pricing
Available upon request to a vendor.
Use Your Premises Wisely and Productively with Space Management Software
Space management software is a modern solution designed to make better use of different kinds of facilities, cut down on upkeep expenses, and put pieces of real-time occupancy and space utilization data together for making informed decisions. If you are making up your mind about a system to modernize your space management strategy, ScienceSoft's team is happy to offer its advice and implementation services, just let us know.
Looking for an outsourcing partner to take over your software development project or the entire pipeline of projects? ScienceSoft is ready to support your business growth and digital transformation initiatives.
Source link