Editor's note: Vladimir explains what employee onboarding software is and how it helps streamline the onboarding processes. If you decide to implement employee onboarding software in your organization, you're welcome to consider ScienceSoft's software development services offer.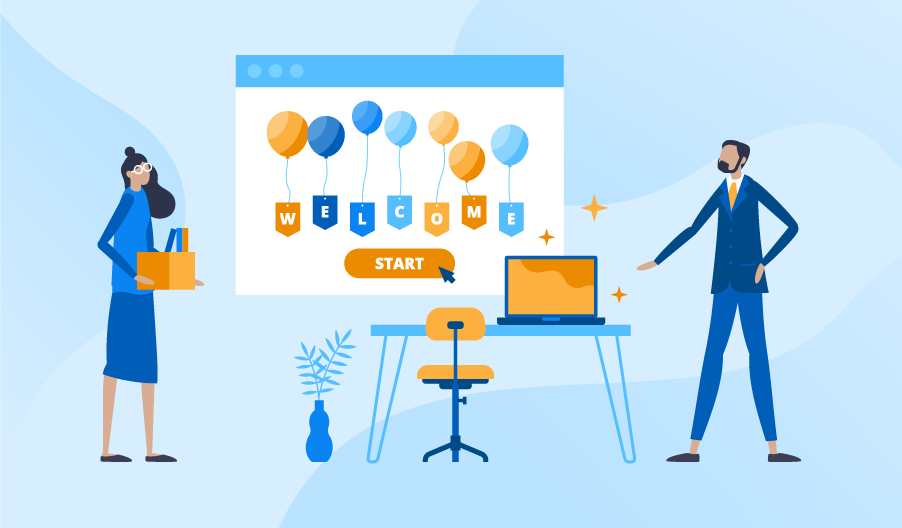 Employee onboarding software is designed to automate HR administrative tasks related to bringing new employees to an organization. For example, onboarding software can help track job applications, automatically send onboarding checklists and welcome emails to new hires. Employee onboarding applications can also enable document approval and e-signing workflows for job offers, employment agreements, and other documents. In addition, such software can offer learning management capabilities and provide new employees with an interactive environment where educational content is created, stored and shared.
Quick onboarding
Onboarding applications can help consolidate, structure, and provide access to content like videos about your organization, policies, vision and mission statements, and more. As a result, it becomes easier to organize the onboarding training for new hires. Also, the onboarding software enables collecting forms (e.g., policy acknowledgement) without having to print out hard copies.
Error-free onboarding
Completing multiple onboarding forms is time-consuming and increases the risk of human error. By using onboarding software, new hires are able to fill out and sign all necessary forms and documents electronically. What's more, the software allows managers to build onboarding workflows and monitor how new employees follow them, which helps avoid confusion and possible mistakes.
Onboarding compliance
When hiring a new employee, you may need to conduct several compliance-related procedures. For example, some new hires may need to sign a non-disclosure agreement, go through background check, pass a drug test, and more. Employee onboarding software helps create an electronic trail that makes it easy to track when materials are delivered, reviewed, accepted, and more, which helps support regulatory compliance. Besides, onboarding software offers timestamped records that make it easy to see which employees are aware of relevant policies, laws and regulations, and which are not.
Overview: GoCo automates processes like collecting onboarding documentation, adding new hires to the company's payroll system, and enrolling them to benefit plans.
Highlights: GoCo enables fast finalization of onboarding documents, including adding of electronic signatures to them. The software also facilitates creating and assigning of onboarding tasks.
Limitations: The software can be slow sometimes. No built-in background check functionality.
Pricing: $5 employee/month. Free trial is available.
Overview: BambooHR is a SaaS employee onboarding application that includes an applicant tracking system (ATS), e-signing of onboarding documents, automated time-off tracking, and performance management capabilities.
Highlights: The software offers e-signature capabilities and a built-in time-tracking tool. It can enable automated tasks and workflows, for example, sending employee timesheets to managers for review and approval for each pay period.
Limitations: No payroll management capabilities.
Pricing: $4.95 employee/month. Free trial is available.
Overview: Talmundo is a cloud-based employee onboarding solution that allows new hires to complete onboarding tasks, communicate with colleagues, and exchange documents.
Highlights: Easy integration with existing HR systems. Chatbot assistance for new hires.
Limitations: No export of your customized electronic forms into third-party HR tools.
Pricing: Available upon request to a vendor.
Improve your onboarding process with employee onboarding software
If you plan to upgrade and facilitate your onboarding process, the right decision is to implement onboarding software tailored to your specific HR needs. If you need assistance in implementing onboarding software, ScienceSoft's team will be happy to support you at any stage – from consulting to software maintenance and support, just let us know.
Looking for an outsourcing partner to take over your software development project or the entire pipeline of projects? ScienceSoft is ready to support your business growth and digital transformation initiatives.
Source link