Micro-investing apps in Australia witnessed a marked increase in the number of users (almost doubled) in the last year, according to an article in Financial Review. Micro-investment applications or small investment apps allow users to access and invest in the financial market with as little as a few cents. While these figures are from Australia, the numbers of micro-investment app users are much higher than the world statistics.
This is high time to build a software solution for micro-investment businesses. Before you contact any mobile app development company, this guide shall drive you through much-needed steps and processes you need to mind to start the business.
What is a Micro-investment app?
Unlike major investments by the rich, micro-investing facilitates everyone to have simple investments or low-cost investments. Micro-investment is also known as low-barrier investment or no-hassle investment where there is potential growth even with little money.
A micro-investment app is a user-friendly software using which individuals can have a hassle-free investment in various schemes and financial projects such as trade, stock, cryptocurrency exchange, and the like.
What are the well-known business models of a Micro-investment app?
Micro-investment apps can mint money for a businessperson through various models. To keep a micro-investment business up and running, the apps can adapt several ways to generate steady revenues. Here are a few to describe –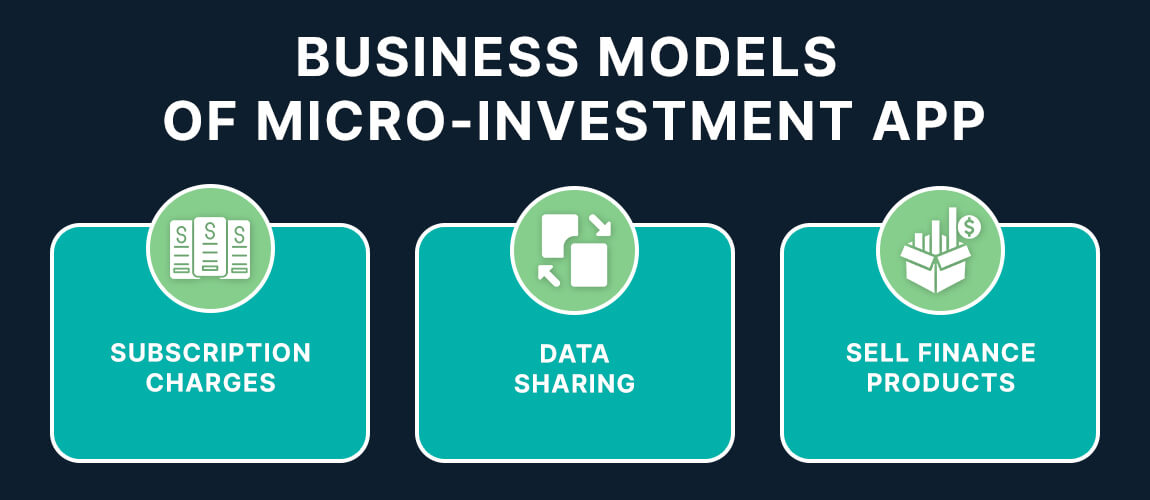 Subscription Charges
Opposite to a freemium model, where users are offered some basic features of micro-investment software applications, subscription-based premium models offer more. Users can fully utilize the app's features with no restrictions. Investment is a long-term process and, therefore, the subscription-based micro-investment apps would have monthly and yearly options which can generate steady income for business owners.
Data Sharing
Not crucial or personal data, but general user data can be shared. Most micro-investing apps gather enormous data from hundreds of thousands of investors from all over the world. Such data can be shared with authentic third-party apps or companies who shall pay commissions for such services to the micro-investment app owners.
Sell Finance Products
Micro-investment applications shall have great investment potential through their services and products. While you can offer various investment options to users, financial firms would also wholeheartedly pay you for their highlighted posts that are featured on your micro-investment platform app.
How does the Micro-investment app work?
Micro-investment apps are built to invest a routine in every user's life because they can put little money into various schemes on the go. The apps take a tiny share out of each transaction and that's how it starts making revenue. Largely, the app functions in three ways –
The app may round off the figure spent by each user. For instance, if the amount transacted is $17.80 then the app rounds it off to $18.00 and the remaining $0.20 shall be invested in your selected source.
Another functionality of the micro-investment app is a bit more uniform where the app or platform shall deduct a specific amount (decided by you) from your account daily, weekly, monthly, quarterly, or even yearly. This amount shall be put into selected micro-investing schemes.
The last function of the micro-investment app is a trigger-based investment. The app shall trigger a certain amount if it exceeds or touches a specific number. For instance, if you have put a threshold of $100 for spending, $10 shall be deducted and invested automatically. This way, savings shall happen as you touch or exceed certain spending on the app.
What are the benefits of a Micro-investment app?
Ample benefits come with micro-investing apps for business owners as well as all users and that makes it a win-win situation. Here are some in general –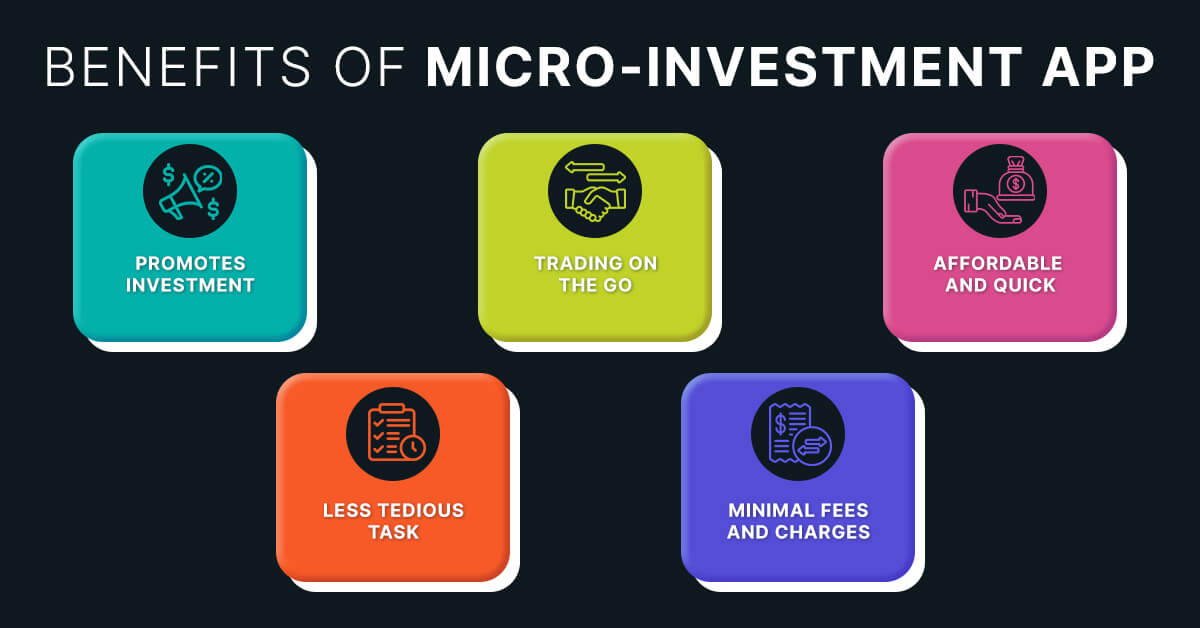 Promotes investment
Micro-investment apps promote investment through their ease of use and guaranteed secure transactions. Earlier, any investment and trading used to involve a lot of paperwork and hassle which micro-investment platforms have successfully overcome. Also, since such apps offer little amount investment plans, people from low- and mid-income groups can easily invest. Overall, such apps have promoted investment throughout all income classes.
Trading on the go
Mobile apps for financial investments have made it a cakewalk for all types of investors as all trading and financial transactions are done through handheld devices, within a few taps. From searching for the best investment plan to stock trading, payday loans, and one-day investment plans, everything is on the go.
Affordable and quick
Micro-investment plans are affordable because they require quite a little funding which almost everyone can afford. For instance, a few micro-investing plans ask for investments of as little as $10. Hence, it is affordable. Another aspect of micro-investment mobile apps is all the transactions done on the platform are quite quick because there is less paperwork and everything is digitally approved and verified.
Less tedious task
Many people, in the past, avoided investments due to tedious paperwork and lengthy procedures for transactions and trading. Removing all such hassles, micro-investment apps offer less tedious procedures and make all business on the app easier than ever before. Due to this very reason, more and more people now approve micro-investment plans via mobile apps.
Minimal fees
Since the workforce or manpower is reduced drastically on all digital platforms, the cost per transaction or trading has been markedly brought down. In other words, there are minimal fees for micro-investments; thus, people save a large chunk of money over time.
What are the must-have features of the Micro-investment app?
Fintech apps are built to offer smooth operations and ease of transactions for every trade or business that happens on the platform. There are many micro-investment fintech apps on the market; nevertheless, there are a few features commonly found on each of them. Here are they –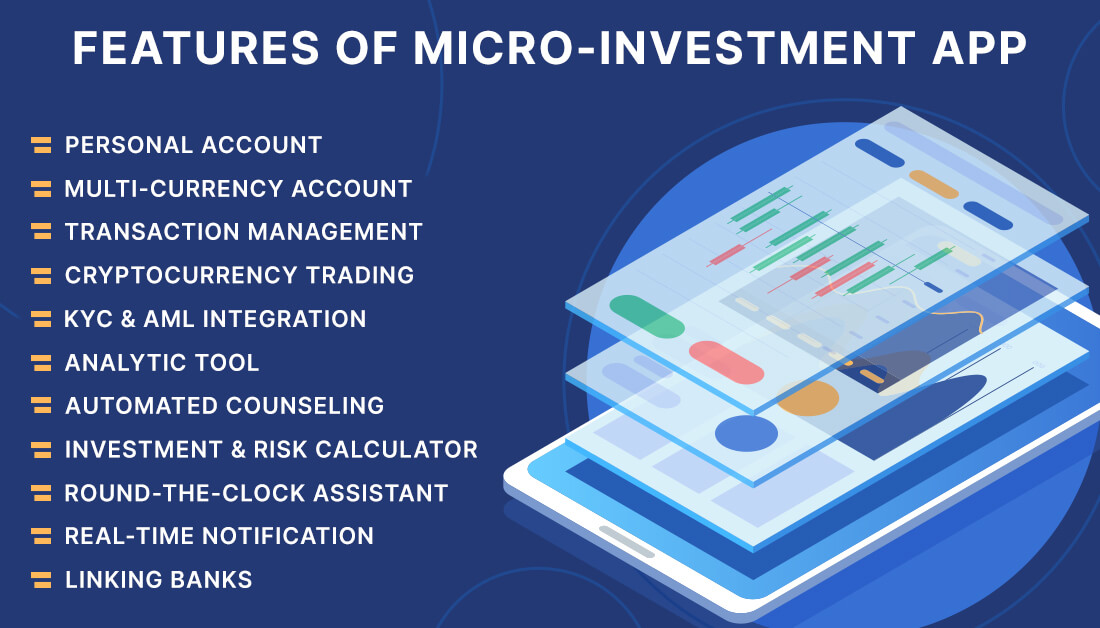 Personal account
Micro-investment apps would have personal account access for each user. Through this account, managing and tracking investments would be easier. Commonly known as a portfolio, one can have a look at their transactions whenever they want.
Multi-currency account
Another good idea about having a unique feature for a micro-investment app is a multicurrency option where users can transact in various currencies including digital currency such as cryptocurrency. Multicurrency support can get you more users from diversified backgrounds and countries.
Transaction management
Micro-investing applications can have transaction management where users can set investment amounts for regular transactions or can pause or edit the amount. Automatic deducting of small funds for micro-investment plans could be a useful feature.
Cryptocurrency trading
The present cyber age demands cryptocurrency exchange with other digital currencies and even digital goods. Cryptocurrency trading on micro-investment apps would be a gem of a feature if included in your product. Bitcoin, Dogecoin, Ethereum, and other digital currencies are in the rage these days.
KYC and AML integration
Know Your Customer (KYC) and Anti-Money Laundering (AML) is a couple of features almost all fintech app developers would include for extra security and safety. You can include these features in micro-investment apps to boost confidence in users about having a business on the digital platform.
Analytic tool
Investment is a thought-provoking process and users would certainly like to make sure that their investment, though micro or small, shouldn't end up in any loss. Hence, analytical tools on apps for micro-investing would be quite helpful for investors. Such tools help users compare and analyze various investment options before making the final decision.
Automated counseling
Micro-investment apps with artificial intelligence can have automated counselors where bots shall provide useful information and relevant suggestions to investors about taking important decisions based on market trends and forecasts.
Investment and risk calculator
Investments of all kinds bring some or the other kind of risk. Apps for micro-investment can have calculators powered by artificial intelligence that can assist users to gain profit by providing them with calculated risks.
Round-the-clock assistant
For sensitive services such as finance, customer support is quite an important feature. Micro-investment apps with 24/7 assistance shall have an extra edge over other investment apps with limited support. Hence, apps with dedicated staff deployed for customer support or an automated chatbot should be a premier feature.
Real-time notification
Staying alert is one of the key factors to staying in profit in the finance sector. In other words, whether it's stock or cryptocurrency exchange, the rates and prices fluctuate every minute and if investors miss this, they are likely to lose business. Hence, real-time notifications and alerts play a crucial role in any investment app.
Linking banks
Financial transactions and trades happen across the world where money flows in and out of your account on micro-investment apps. Linking banks and other payment gateways is mandatory for any app to stay legal and hassle-free. Multicurrency and payment support through linking banks is one of the most useful features of micro-investment apps.
How do Micro-investment apps make money?
Many monetization models can generate revenue. The Top mobile app development company can help you integrate such models right from the development stage of your micro-investment app. Here are a few to check out –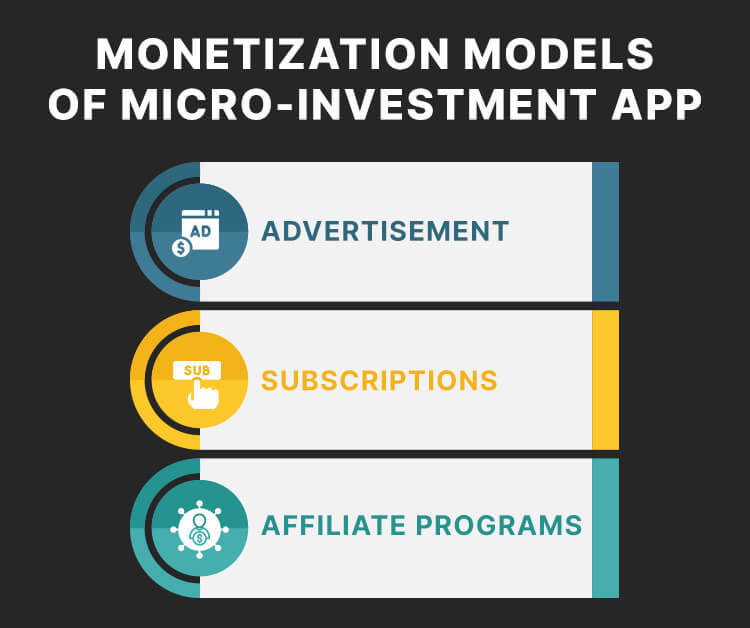 Advertisement
Renting space on micro-investment apps is one of the most common ways to earn revenue. The core practices of renting small to large spaces on the app's main page or inner page shall earn you a decent amount. You can accept small to large banners of ads from different companies.
Subscription
Most mobile apps come with a freemium model for revenue as the product is kept free to download on app stores; nevertheless, such apps shall come with limited features. Opposite to freemium is a premium or subscription model wherein all the features and facilities on micro-investment apps are accessible to users. The subscription could be weekly, monthly, quarterly, or even yearly depending on the decided revenue model.
Affiliate programs
More like a commission-based money-making model of micro-investment apps, in affiliate marketing programs, you may collaborate with various finance companies to exchange spaces and links from and to your app. Depending on the lead generated by your platform a certain amount is paid to you.
Which Micro-investment apps are currently popular?
Several renowned micro-investment apps and small investment apps are available in the finance market. For instance, UNest, EarlyBird, Stash Invest, Fidelity Spire, SoFi, Binance, Betterment, Gemini, MoneyLion, StockPile, and so on. Nevertheless, the three investment apps have made their way to the top of the list;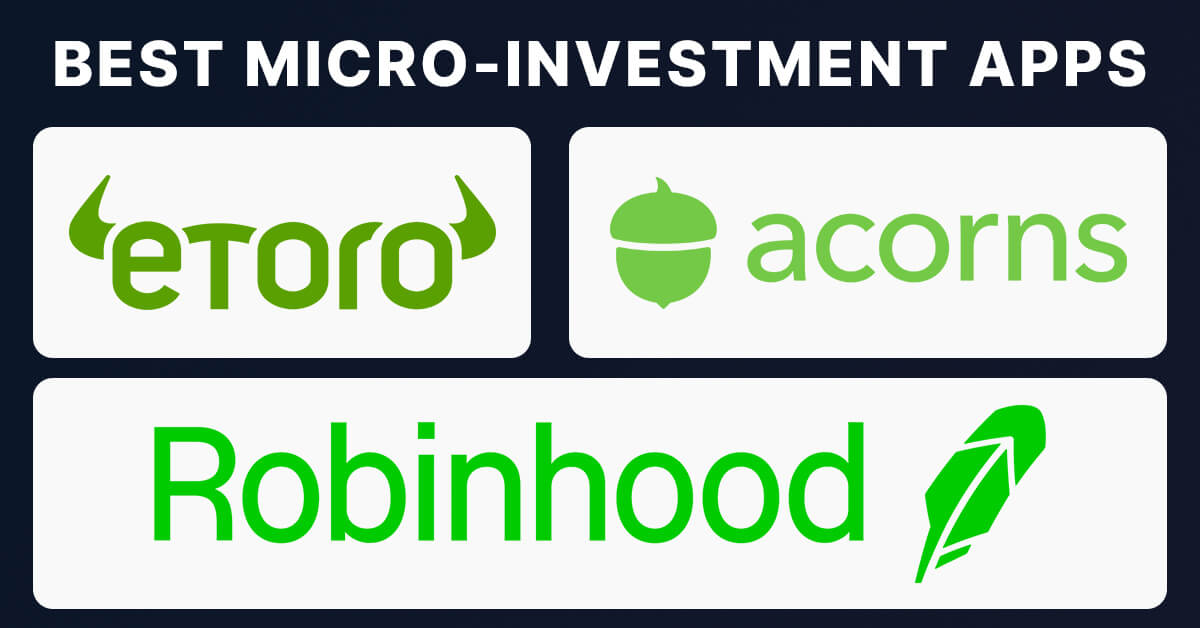 Acorns
As they claim, Acorns helps users save and invest both on the same platform. Users can support spare change and invest while they bank. Through each transaction, users can earn bonus investments. The app also provides a sound knowledge of micro-investment and finance growth in the safest possible way.
Robinhood
Robinhood's strategy is to help you run your money your way. Robinhood is a super investment app that offers trade stocks, options, ETFs, and other cryptos (Robinhood Crypto) services on a single platform. The best part of why the Robinhood investment app is popular among millions is its zero-commission policy.
eToro
eToro is a social investment and multi-asset brokerage company spread across the world. The platform offers manual and social investment from various options such as stocks, crypto assets, multiple currencies, ETFs, indices, and commodities.
What APIs shall help your Micro-investing app lead the market?
APIs are like power boosters that can help your app for micro-investment perform better than other investment apps. Here are a few APIs you can ask your tech partners when you hire developers to build a customized micro-investment app.
Plaid API: connects with several banks
Alpaca Stock Trading API: helps handle regulatory compliances
Alpha Vantage, Bloomberg Market, Yahoo! Finance API: provides real-time quotes
ETrade: helps manage user accounts, orders, and search for exchanges
Finbox & Tradier: gets stock metrics and helps research the finance sector
How much does it cost to develop a Micro-investment app?
Depending on the number of features you want, the location you are hiring developers for, and the time taken to develop micro-investment apps (small investment apps) will affect the overall development prices. Nevertheless, according to tech experts, somewhere between $30000  to $50000  you may have to keep your finance ready to get started.
Ultimately, it is the mobile app development company you hire that shall get you the closest estimation or cost breakdown to develop a micro-investment app. Most app development service providers, depending on your business objectives, can get you a free consultation when you contact them.
Conclusion
So now that you have gone through various aspects of micro-investment business planning and app development, you can submit your project and contact professionals to build a bespoke solution to your business needs.
Frequently Asked Questions Micro-investment App
This guide to how to start a micro-investment business app shall take you through the A to Z stages of the business and app development. You need market research and a foolproof plan to develop an app. It's all mentioned here.
The micro-investment apps or small-investment apps, as the term suggests, attract everyone as they have financial investment options with a micro (small) amount of money. For instance, just a $10 investment. Hence, here, the number of users could be from low to medium-income groups which is quite higher than traditional investment app users.
Micro-investment apps don't restrict themselves to a type or two finance plans. You can invest in a stock, cryptocurrency exchange, digital assets, and other such finance sectors.
Any investing app shall have certificates and compliances set by local and international authorities. You can take the help of a legal finance attorney or can simply ask mobile app development companies that master in building finance apps.
Costs to develop a micro-investment app include developing a blueprint, wireframe, and prototype of the digital product. Also, the UI/UX of micro-investment apps and development with several tier-security, API integrations, and payment gateways shall have their own costs.
Source link